Artificial Intelligence-enhanced tools have already given photo editing apps a boost, but the future promises more advanced features. In this context, Ribbet ran an international survey to better understand how the creative community perceives this transformation. 
In February this year, Ribbet collected the answers from 1186 survey participants from around the world, and is now sharing the results: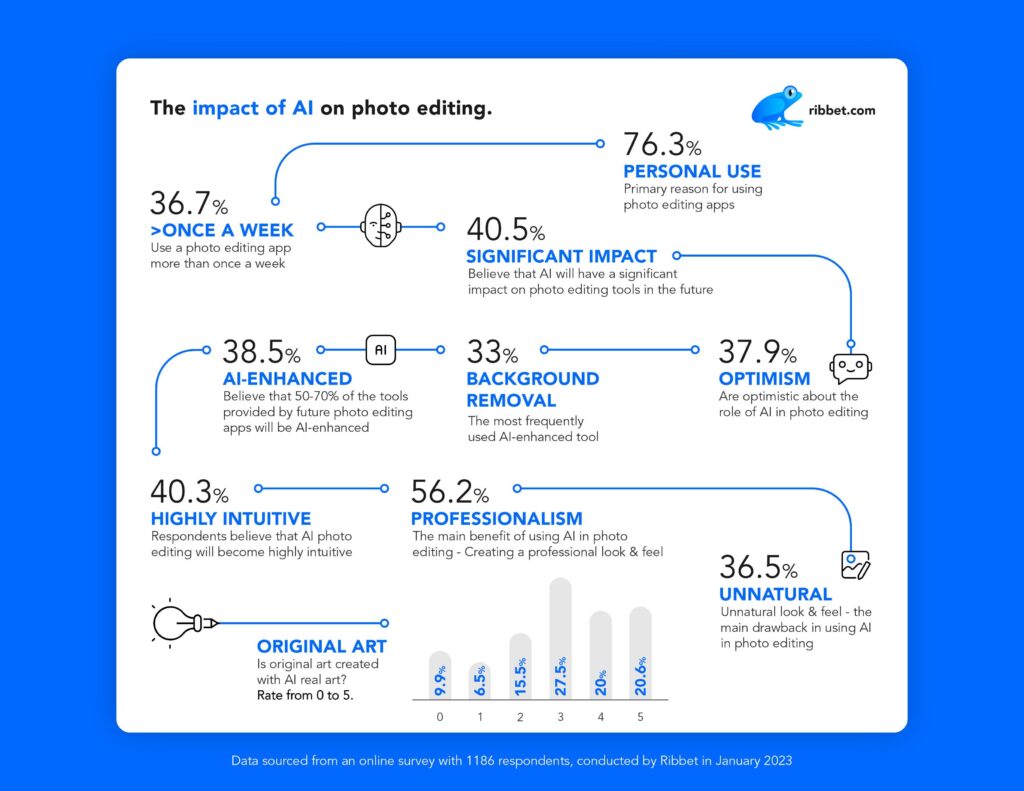 76.3% of participants stated their primary reason for using photo editing apps is personal use
36.7% use a photo editing app more than once a week
40.5% believe that AI will have a significant impact on photo editing tools in the future
When it comes to levels of optimism, 37.9 % are optimistic about the role of AI in photo editing
Background removal is currently the most frequently used AI-enhanced tool (33% of responses)
38.5% of participants believe that 50-70% of the tools provided by future photo editing apps will be AI-enhanced
In 5 years time, 40.3 % of respondents believe that AI photo editing will become highly intuitive
The main benefit of using AI in photo editing is "creating a professional look & feel" (56.2% of responses)
"Unnatural look & feel" was considered the main drawback in using AI in photo editing, with 36.5% of responses.
When asked to rate from 0 to 5 whether "original art created with AI is real art?" the percentage of respondents with each rating were:
0 – 9.9%
1 – 6.5%
2- 15.5%
3 – 27.5%
4 – 20%
5 – 20.6%
Ribbet is a leading photo editing platform which launched in 2012. It lets you quickly and easily create eye-catching designs for social media, web, and print and is available on desktop and mobile.